Happy Friday 05.04.2019
Bankruptcy, Rebirth, Departures & Acquisitions... What A Week.
Happy Friday!
Wow it has been yet another busy news week, The biggest story was undoubtedly Sizmek filling a Chapter 11 bankruptcy late last Friday. We look at what this might mean for their partners & what the future of their business might be.
Next we turn to a partnership between Amobee & UK broadcasting giant ITV, which is a massive step forward for connected TV buying in the UK. Some will see this as a fitting follow up to the Sizmek story given that Amobee acquired Videology when they filled for Chapter 11 in 2018 & their expertise will have been key in this deal. This illustrates that whilst things may look bleak now, there's the potential for positive outcomes from this type of filling.
The third story we cover is the news that ComScore's President & Chief Exec are both leaving the business less than a year into their tenure. This really was a market moving story with the business lost a quarter of its value ($250 Million) in a single day when it broke.
Finally we turn our attention to Publicis who are said to be eyeing the acquisition of data & marketing giant Epsilon in would be the largest agency acquisition of all time. Like I said a busy news week, Never dull is it?
---
Sizmek Files For Chapter 11 Bankruptcy
It is well documented in the trade press that Sizmek has been a challenged business for some time, late last Friday the business filled for a Chapter 11 Bankruptcy in the southern district of New York. By Saturday morning exchanges spooked that Sizmek couldn't cover their debts, were not sending bid requests to Sizmek's DSP.
In their bankruptcy filing Sizmek said it has between 1,000 - 5,000 creditors. It did say that funds will be available for distribution to unsecured creditors, but is unclear how much of the $39 million owed to these exchanges they will be able to repay: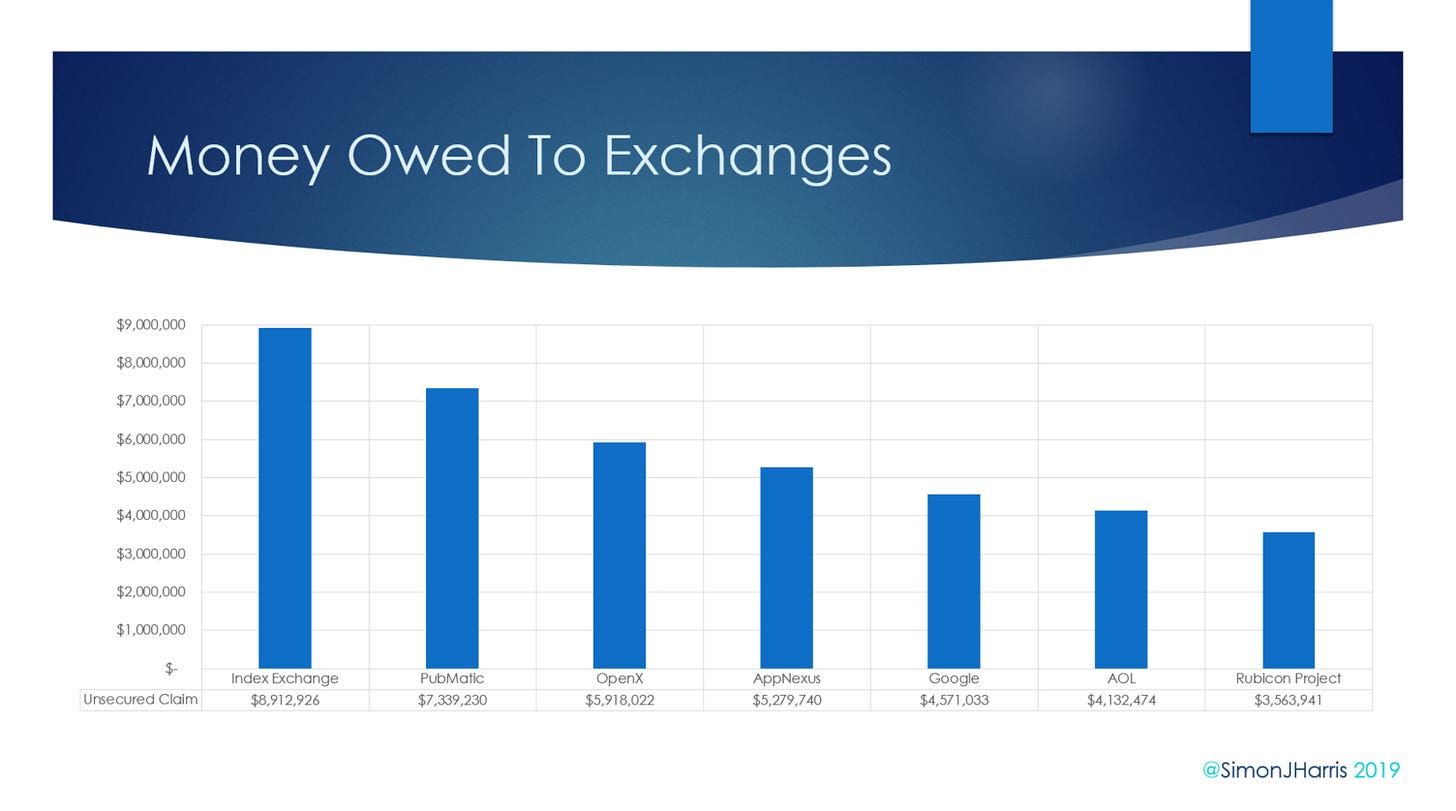 Given there's the potential for exchanges to get paid pennies on the dollar, there has been some concern over what would happen to publishers. Big publishers will probably be okay, they often have better payment terms with their exchange partners than the exchanges do with their DSP partners, so it is unlikely they'll be significantly out of pocket. As for smaller publishers the path is less clear, but exchanges defaulting on their debt with publishers is unlikely, as they'd be dropped by the publisher. In this context it's likely these sad circumstances will challenge already struggling exchanges.
But what's next for Sizmek? A chapter 11 bankruptcy gives the business the opportunity to reorganize its assets, this might include downsizing operations to cut costs, say by reducing headcount (which Sizmek did a while back) or it might involve selling elements of the business off.
Whilst there was a reticence to break up the business previously when this was explored, this could be more likely now & if it does happen it's likely the ad server would be considered the crown jewels as it a) remains popular & b) is one of the few credible alternatives to Google's Campaign Manager.
Alternatively Sizmek may look for a buyer, it has struggled in the recent past but a strategic investor may smell a bargain, just as Singtel did when Videology filed its Chapter 11 in 2018. Singtel who also own Amobee & on Thursday this week Amobee announced a partnership with British broadcast giant ITV in part powered by Videology. I mention this here as it illustrates that whilst things may look challenging now now, there's the potential for positive outcomes from this type of filling, indeed I very much hope this is the case for Sizmek & their employees.
---
ITV & Amobee To Create Addressable TV Platform
As I mentioned above the UK's largest commercial broadcaster ITV, is partnering with Amobee to create a platform that allows the TV giant to "deliver end-to-end programmatic buying" on their catch up service:
ITV said the platform built in partnership with Amobee will allow advertisers to to choose audiences & place ads via a simple to use buying platform that will give buyers access to ITV Hub's ~28 million subscribers, allowing them to reach ~80% of UK adults aged 16-34 years old.
As part of the deal ITV will hire about 25 staff from Amobee & these staff will manage a data management platform, ad server & the aforementioned buying platform.
Many saw this happening because a) ITV went on the record earlier this year saying they didn't want to pay to use Sky's tech & leak away value & b) ITV know Videology intimately, indeed they were part of the consortium of broadcasters that lost the auction to acquire the AdTech vendor's assets to Amobee last year.
Campaign Magazine reported that ITV will give advertisers the "best of both worlds" reach across linear channels & "targeted, data-driven addressable advertising on the Hub". So whilst this isn't the holy grail of fully programmatic linear yet, it's a positive step towards automation for the UK TV market & a giant leap forward for ITV. Interesting times.
---
ComScore Leaders to Depart, Share Prices Tumble
Earlier this week news broke that ComScore Chief Exec Bryan Wiener was leaving the business less than a year after joining, because of "irreconcilable differences over how to execute the company's strategy".
In almost the same breath it was announced that President Sarah Hofstetter, who joined six months ago, would also leave the company. This leadership shakeup sent ComScore's share price tumbling:
It's reported that whilst Wiener wanted to deliver on his vision for a multi-channel measurement company & was keen to invest in R&D, other board members were were looking for ways to simplify and "slim down" the business. The joint departure is significant, if unsurprising, Wiener & Hofstetter, worked together at 360i prior to joining ComScore.
ComScore have made leaps and bounds in recent times by simplifying their proposition & in a classy post on LinkedIn the departing exec Wiener said he believed "the company is strategically positioned to continue to take advantage of the rapidly evolving media marketplace with a core focus on advanced TV, and I wish its loyal employees, clients and investors well".
ComScore have said they do not expect these changes "to impact the work that we're doing for our clients or our strategy to be the trusted currency for planning, transacting, and evaluating media across platforms" This is likely true in the short term but the loss of two well liked & innovative leaders will surely be missed somewhere along the line & the uncertainty that this brings has clearly caused a significant market reaction.
---
Publicis Eye Largest Ever Agency Acquisition
There's been so many big stories this week that news of what could be the largest ever agency acquisition is bumped to the final story of the week. On Tuesday news broke that Publicis is in talks to acquire data marketing giant Epsilon:
Epsilon offers a broad range of data services including customer insights & consultancy. It counts Google, Dell & BP as customers. It is ranked as the world's 13th largest agency company by AdAge and has revenues north of $2 billion p/a.
The move was seen by many as a counter to the acquisition of Acxiom by Interpublic in October 2018 for $2.3 billion & the purchase of Merkle by Dentsu. But at $5 Billion the price is over double what IPG paid for Acxiom & in fact would surpass the $4.9 billion Dentsu paid for the Aegis Group back in 2013 making the deal (if it goes through) the largest-ever acquisition of an agency company.
Bloomberg noted that despite the grand scale of the proposed takeover it wouldn't impact the holding company rankings & Publicis would continue as the world's third-largest agency company. I very much doubt Publicis will care about the deals impact on their rankings, they will be much more focussed on the impact an injection of hundreds of analysts, statisticians & consultants from Epsilon will have on their data capabilities. This isn't a done deal yet, so it will be really interesting to watch this play out.
---
Okay that's the newsletter done for another week & thank you for making it this far!
If you want to get in touch
Twitter here: @SimonJHarris
Or LinkedIn here: linkedin.com/in/simonjulianharris/
If you know someone who might like to receive next weeks newsletter send them here:
https://simonjharris.substack.com/p/happy-friday
Thanks & have a lovely weekend
Simon