Happy Friday! 05.10.2018
Welcome Back!
Happy Friday!
Last week we went from zero to one & a half thousand subscribers in three days, so firstly thanks for signing up, I'm humbled. Secondly thanks for opening this weeks edition of the newsletter!
Last week the newsletter focused on strategy & acquisitions, big picture stuff. This week tactics beat strategy & we're getting into the detail: Allegations of shady auction behavior feature front and center, followed up by juicy gossip on Amazon's foray into programmatic TV & rounded off with the news that Uber have taken programmatic buying in house. Let me know what you think about all of this on twitter: @SimonJHarris
---
Index In The (Wrapper) Wars
Index Exchange were in the trade press again this week for all of the wrong reasons. Last time around it was bid caching; a process where a bid from one auction and used it in a subsequent auction, this time around their competitors are questioning the impartiality of their header bidding wrapper:
A wrapper is a repository for header tags & Index Exchange's solution is employed by many of the ComScore Top 100. A wrapper calls the header solutions that sit within it, then passes the bid responses back to the publisher's ad server. It's alleged that Index have been tipping the scales against their competitors.
How might this happen? Multiple exchanges claim Index Exchange advantages itself by calling itself first, meaning they can respond every time, whilst others are called later so there's a greater chance the auction will time out before they can respond. It is also claimed, Index Exchange's wrapper calls itself every time, but not everyone else, reducing competition.
Index Exchange vehemently denies any bias within their wrapper and has put forward ways to audit the wrapper to confirm its neutrality. They also say the wrapper's code is shared with partners who request it for their own examination. This video outlining how a publisher can inspect their wrapper is interesting:
it is suggested the alleged bias may have cost publishers millions in incremental revenue. Whilst I don't feel well placed, or have the information to pass judgement on these claims, given their severity, I do find it surprising this is playing out in the trade press & not in a courtroom with publishers taking Index to court for loss of earnings.
In my opinion the continued infighting amongst exchanges is stoking concerns about transparency & trust in the programmatic industry & I doubt this will be positive for anyone on either the buy or sell side. I feel we instead need to come together earnestly to codify expected, ethical auction behavior, which ALL exchanges should be held to. It's then very clear where rules have been breached. Financial penalties for rule breakers should be the order of the day. The approach MediaMath are lining up looks to be a step in the right direction - However I believe any standards need to be industry wide & not supplier specific, the ecosystem doesn't need bifurcated standards, it's complicated enough already.
---
MediaMath Are Taking Action
MediaMath plan to stop buying from supply partners that play auction games. The aim is to create strong economic incentives for fair & transparent programmatic auctions. They have made this list public & are asking exchanges to assert the following: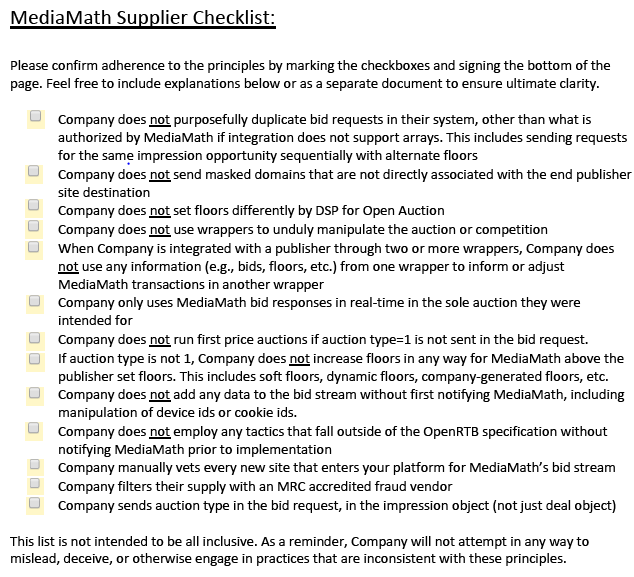 If exchanges are found to not be acting in accordance with the above they will be kicked off the platform for a period of time (which will depend on the severity of the breach) & post this they will be vetted extensively before being switched back on.
I commend MediaMath for making this move & for making their rules public, it is a step in the right direction, however I think empowering the buyer with the final decision is key:
Regardless of my opinion, this is a hugely positive move. My hope is that Google, Amazon, Adobe & The Trade Desk all follow suit, working with both MediaMath & the sell side to agree a standardized code of conduct.
A consolidated approach is key, not only because (as I said above) bifurcated rules will bring unwelcome complexity to the programmatic ecosystem, but primarily because the financial penalty of misbehavior by exchanges will be much greater if ALL the dominant players enforce the same set of rules.
---
Amazon's Plans For Programmatic Video
Amazon's Advertising business is growing rapidly and will generate over $4 billion in 2018, it's pegged to overtake Microsoft by the end of the year as the 3rd biggest player in online advertising in the US: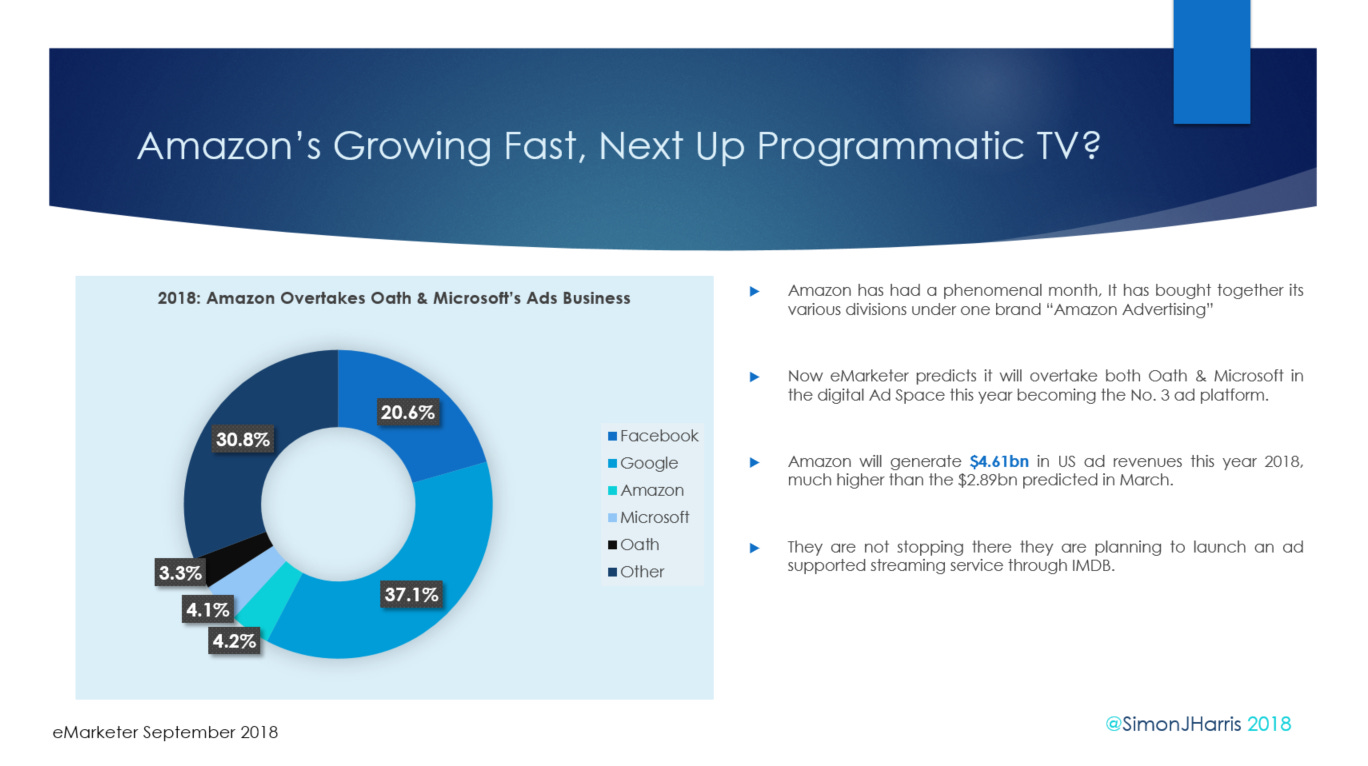 Whilst to date most of its revenue has come from search ads, it looks like they are going expand into Programmatic TV. According to CNBC they will launch a free ad funded streaming service for their ~50 million Fire TV users, with a view to tapping into the $69.87 Billion US TV market. All the details here:
For brands like P&G & Unilever accurately tracking sales back to their media investment is the holy grail & linking addressable TV into Amazon's data ecosystem would allow the worlds largest advertisers to do this in an unprecedented way. In short it would "close the loop" giving them display like post view attribution for TV advertising.
Beyond the advertising sales themselves I predict this will this be a huge revenue stream for Amazon, especially if they make this exclusive to their DSP (which they likely would) as they'll benefit from significantly increased adoption and incremental revenue from platform fees - All on high yield video inventory! Smart moves like this are why Jeff Bezos is the richest man alive!
---
Uber Take Programmatic In-house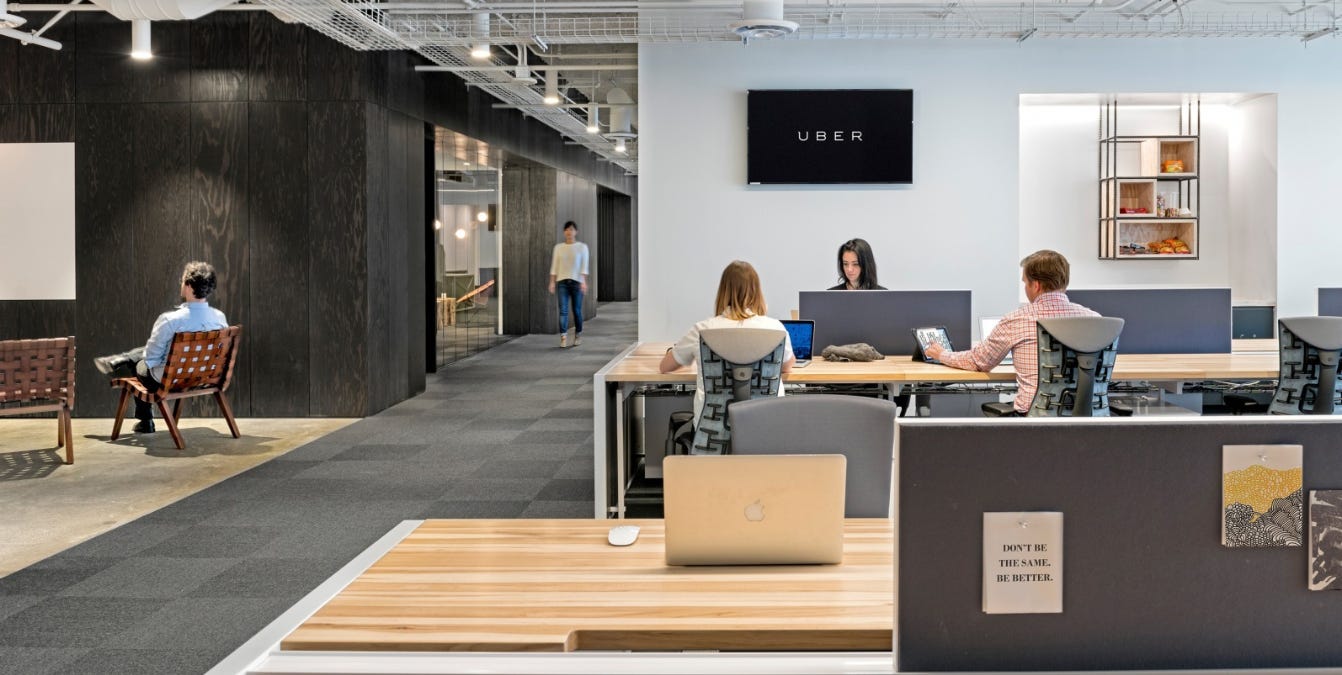 In Europe there is always lots of talk about taking programmatic in house, usually this means strategy & sometimes it involves striking contracts with AdTech firms direct, but rarely does it involve campaign execution.
In the US market scale means that things are a little different, IAB data shows one in five marketers have hired traders like myself to run their campaigns internally. Uber has joined this list with programmatic strategy, buying & optimization now done in house. Digiday has a great article on this:
To bring buying in house Uber are working more closely with MediaMath than ever before. MediaMath was their head of programmatic's employer previously & no doubt the deep knowledge of the system will have assisted the in housing process. Uber have said the decision was not made based on costs, but driven by how their advertising was transitioning from mass reach to personalization & re-engagement as their business matured.
Uber see AI models trained on bid stream data as important area of focus moving forward, their aim being to create predictive models that will help them maximize their customers life time value. Despite this their head of programmatic doesn't believe AI will replace his team long term saying "I don't think robots is every going to replace trading in programmatic. I think there's always going to be that trader in the middle gut-checking things" I think this is a fair point.
Thinking more broadly about trading, it seems clear traders may increasingly operate outside of the traditional setting of a trading desk setting, with clientside & consultancy based traders becoming more commonplace. Does this mean the end of the agency? Absolutely not, whilst traders will have more options in terms of employers than ever before, many will continue to chose working for holding companies (& independents) for all their advantages: agency culture, client diversity & career opportunities.
---
Okay so that's the second newsletter done, thank you for reading this far, I really appreciate it. Hopefully you'll agree it has been a passable sophomore attempt, if not let me know where I can improve, feedback is a gift.
If you think of someone who might like to receive next weeks newsletter ask them to sign up, I'd really appreciate that also, it'd be great to get past 2000 subscribers in two weeks!
Thanks & have a lovely weekend
Simon