Happy Friday 08.03.2019
It Happened: Google Is Going 1st Price.
Happy Friday!
Wow it has been a busy news week, The biggest story was undoubtedly that Google's advertising exchange will go first price before the end of the year. From this we turn our attention from an exchange that is making the transition to first price, to one that has crossed that chasm already, Index Exchange. They released a glut of very interesting, open source documents & code with a view to establishing a leadership position on transparency, this has flown under the radar of most, but it's a very interesting move.
Next up we turn to bad news, it appears Sizmek is in trouble, AdExchanger has the scoop & we look at what might be in the future for this business. Finally we look at news that iPhone giant Apple is rolling out an enhanced version of ITP 2 with their latest version of iOS 12 & look at what challenges the latest version may cause for the data driven marketing industry.
As I said this week has been so jam packed with news, there's not even room here to cover off rumors that Comcast is likely buying DataXu 8 & reports that Xandr isn't likely to make any further acquisitions in the near future due to restrictions from AT&T. We'll cover off the former when/if it closes.
Enjoy!
---
Google Goes First Price
Historically programmatic auctions have been second price, in more recent times with the proliferation of header bidding we've seen first price auctions become increasingly popular. It's a model that's been widely adopted by most major SSPs including AppNexus, The Rubicon Project and Index Exchange.
One notable absence from this movement has been Google. The Exchange formerly known as AdX has always been staunchly second price, that is until that is this week:
On this move Sam Cox of Google said "We expect the transition to be complete by the end of this year. By switching to a single first price auction, we can help reduce complexity and create a fair and transparent market for everyone" Lets look at what the impact might be for Publishers, Exchanges & Buyers.
For Publishers? Well Google brings unique demand via its stack & one can see publishers being happy that they'll now be able to monetize this in a first price auction. Put simply they will view it as an opportunity to boost yield. Now of course savvy buyers will implement measures to mitigate this, but broadly speaking this shift will be welcomed with open arms by publishers.
For Exchanges? there will be less optimism on this move, it is likely the shift to first price will boost Google's win rates as bids that were formerly submitted to the publishers ad-server as second price historically will not be marked down. In this context the shift by Google has the potential to be bad for competitor exchanges, not great news for those operating in what is already a (very) challenging market.
For Buyers? Well they have been dealing with muddled auction dynamics for some time now & this move gets the market back closer to a single auction model. Many feel that we're reaching equilibrium with 3 years ago, with what is arguably a less optimal auction model is NOT something to be celebrated, but regardless buyers will adapt to the new normal & drive value for their clients.
To end on a positive note for The Trade Desk who are arguably Google's biggest buyside competitor, the shift to first price may be a shot in the arm in the short term, As I pointed out in last weeks newsletter they have been very successful in monetizing features that offset the impact of 1st price auctions & their platform's users have more incentive than ever to deploy these features.
---
Index Exchange Drives Towards Transparency
From an exchange making the transition to first price auctions, to one that has crossed that chasm already: Index Exchange. Having made the leap to first price they are focusing on transparency, releasing a glut of open source documents & code with a view to taking a leadership position in this area. They've added a number of interesting documents to their public knowledge base, most notably a code of conduct which governs auction dynamics, data & transparency: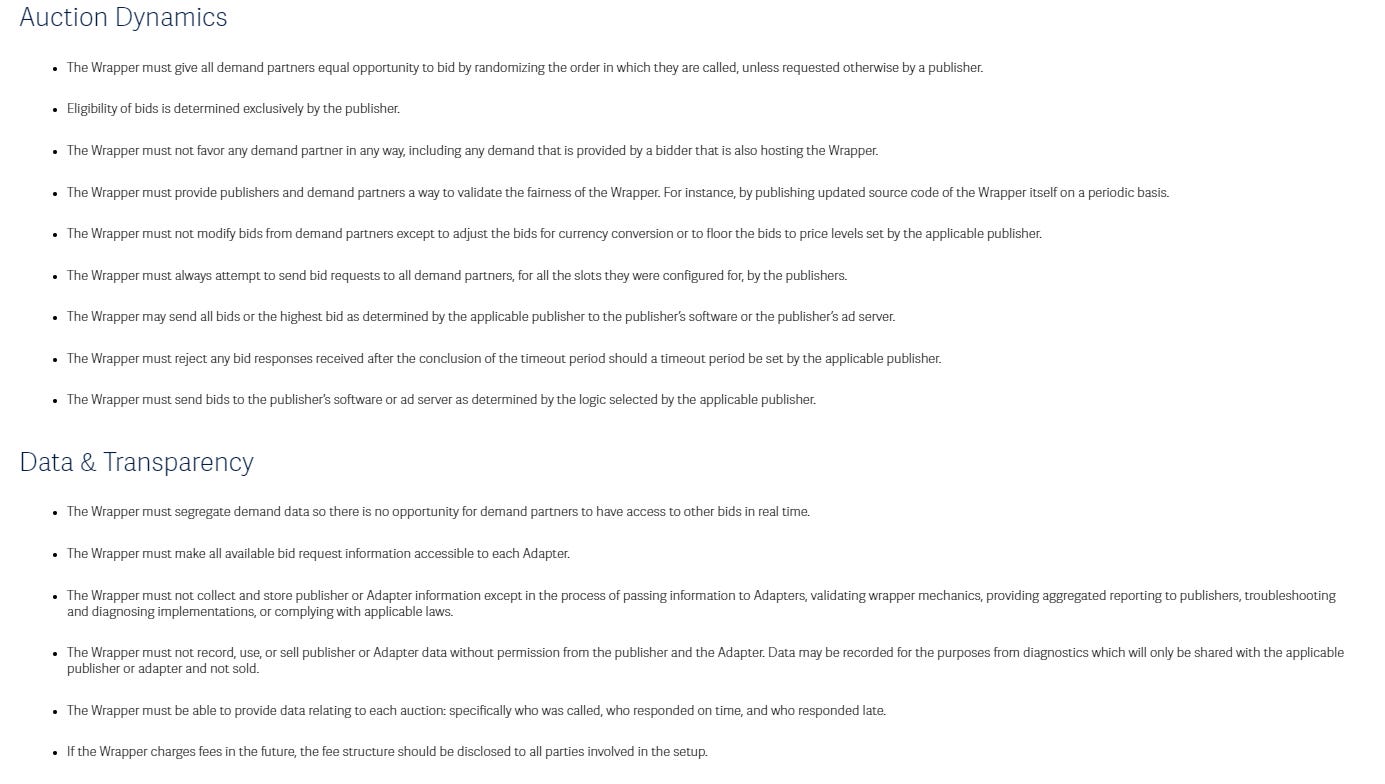 This code also defines standards for User Experience & guidance for their Adapter Partners. I recommend reading it if you've not done so already, you can find it here. My take is that this is a huge step in the right direction, I wonder if their competition will follow suit, I hope they will.
As I mentioned above Index also put their code online, I find it interesting that Index felt the need to publish to GitHub given that you could already inspect their code fairly easily using a JS Beautifier. My take is here that this is likely a move aimed at taking the wind out of some of the criticism that was leveled at them during last year's Bid Caching controversy.  
Prebid.js is Index Exchange's key competitor & it already makes its code available, the difference is the former is opensource code. Some have noted that the customization done by users to Prebid are not typically documented publicly & through this lens Index might now argue that they are more transparent than their competition who don't publish what they've built. Again as with the code of conduct it will be interesting to see if their competition follow suit & make analogous information public. If 2019 is to be the year of transparency I'm sure many are hoping they will do so.
---
It Looks Like Sizmek Is In Trouble
Next up we turn to this weeks bad news: According to an eye opening @AdExchanger article by @JamesHercher, Sizmek needs another investment round to remain viable and Vector Capital the firm that backed the acquisition of Rocket Fuel will not be providing further funding:
One well known industry commented pointed out that it looked like the business was heading "to zero without a buyer". How did this happen?
Sizmek had a bad 2018, missing revenue expectations in part because the I/O business that came with the RocketFuel acquisition evaporated & this was not offset by a big up tick in the use of its self serve platform. Its ad-server business also fell short of expectation in terms of adoption, the hope that Google removing IDs from their log files as part of their GDPR preparations would drive users to other platforms does not appear to have materialized at scale.
What about the future? Well the MD of Vector who headed up the RocketFuel deal is no longer with the business and they offloaded their other AdTech assets in December 2018, so a sale looks likely, if challenging.
The article highlighted that it would be easier to break the business up, but that those involved were unwilling to do this last year when a sale was first explored. Sizmek is currently working with Cerberus Capital a private equity firm (that financed the debt on Vector's deal for Rocket Fuel) who have taken equity in Sizmek, with a view to helping them find a new strategic investor. It will be very interesting to see how this plays out.
---
Apple Updating Intelligent Tracking Prevention
At the back end of February Apple announced that iOS 12.2 & Safari 12.1 on macOS would include an updated version of Intelligent Tracking Prevention (ITP). There's a great article on DigiDay this week that covers this important news in some detail:
For those of you who don't know what ITP is, the first version of ITP launched with iOS 11 & the iPhone X. It partitioned off 3rd party cookies set by AdTech vendors on the mobile web after 24 hours, this reduced the scale of re-marketing audiences and drove conversion rates lower as key ad tech players struggled to deal with the new technology. The second iteration ITP-2 arrived in September & it eliminated the 24-hour grace period it made the situation outlined above even tougher.
The new release ITP 2.1 will focus on 1st party cookies, this will likely impact how advertisers monitor customers visiting their website & also AdTech vendors setting tracking cookies on a first party domain to circumvent ITP2.
The key question is whether vendors will find ways around this, avenues such as canvas fingerprinting were shut down long ago & whilst the noose does seem to be tightening on cookies, I'd imagine someone will find a short term work around, which will then likely be closed by Apple with the iPhones that land later this year.
Longer term many have rightly commented that all this is laying the groundwork for a post cookie world, in fact earlier this year Google made a telling public comment on this subject:
As to when exactly this happens, your guess is as good as mine… But as with Google's Ad Manager going first price, when Google moves, it moves the market in a very meaningful way for everyone in AdTech.
---
Okay that's the newsletter done for another week & thank you for making it this far!
If you want to get in touch
Twitter here: @SimonJHarris
Or LinkedIn here: linkedin.com/in/simonjulianharris/
If you know someone who might like to receive next weeks newsletter send them here:
https://simonjharris.substack.com/p/happy-friday
Thanks & have a lovely weekend
Simon
---