Happy Friday 14.06.2019
The Future Of Programmatic
Happy Friday!
Last week it appeared that Amazon had sealed the deal for Sizmek's AdServer, but late Friday Ycor owned Weborama announced it had put in a last minute (& larger) bid for the same assets. Ycor was founded by Maurice Levy (the former Publicis Chairman) & we look at what it & Weborama might be up to.
Secondly there was a tinge of sadness for some this week as we learnt the AppNexus brand is being retired. The demand side product will now have the rather grandiose title of "Xandr Invest". Some don't like the name, but I think it is fitting for a business with such lofty aspirations & to go with the flashy new name there's some neat new product features, so next up we look at these.
From this we turn our attention to not one but two significant developments in the Programmatic TV space. Firstly Hudson MX announced its buying platform had facilitated over $2 billion in local TV advertising buys this year in the US & secondly Google announced a partnership with WideOrbit to bring programmatic linear to DV360, interesting stuff.
If all that wasn't enough finally take a look at the two major industry reports that were released this week, GroupM's excellent "This Year Next Year" & Mary Meeker annual Internet Trends Report. There's lots of detail here so I've included a video of the internet trends report keynote to save you all from information overload.
Enjoy!
---
Last Minute Bids For Sizmek's Ad-Server
Last Friday we covered the news that Amazon had agreed to acquire Sizmek's Ad-Server & DCO products. Late that very day European Ad-Server Weborama's parent company Ycor said that it had "decided to top Amazon's bid". Here's what Weborama had to say on the subject:
Whilst the last minute nature of the bid is odd, the benefits for Weborama are clear, it would extend what is a largely a European offering into new markets, that is of course if the acquisition were to be a success.
The business making the last minute bid has tried to pitch this as David vs Goliath battle for the open internet with Alan Levy (son of Maurice) saying that beyond growth, keeping the Sizmek ad server from "disappearing into a walled garden" was an important goal as well. A noble goal, but have they left their bid too long?
It certainly looks this way with AdExchanger reporting that FTI Consulting who are overseeing the sale of Sizmek's assets asserting that the sale to Amazon was going ahead "We've signed an agreement for Amazon to acquire Sizmek's ad server and DCO assets and are seeking expeditious Court approval for it."
I suspect this is the outcome many in the industry will be hoping for as as a number of industry commentators have said they feel the Seattle based giant is much better placed to make the most of the acquisition & the assets moving forward.
So was this as some have suggested an elaborate ploy by Ycor & Weborama to gain publicity? Or as others have suggested an attempt to boost Weborama's share price which had fallen 52% YoY? I'm not sure on either front to be frank & the latter does strike me as a somewhat cynical suggestion, but whatever the truth is, it'll certainly be interesting to watch this play out.
Finally if that wasn't enough excitement for one story there were rumors yesterday evening that Sizmek's contextual targeting product Peer39 will be spun off into a separate business run by Mario Diez an AdTech veteran who was formerly at Sizmek. This is something we'll look at in detail next week.
---
Farewell App Nexus
This time last year Xandr was so new that they rocked up to Cannes without their own branding finalized. Well what a difference 12 months makes! This week Xandr76 announced it was re-branding AppNexus DSP to "Xandr Invest"
The platform features a streamlined interface & Xandr believe it will re-affirm their commitment to the buyside, which is something that buyers had increasingly questioned over the past three years. Xandr Invest offers improved connectivity to video inventory, which had long been an challenge for the platform & it will also feature Warner Media O&O.
On the relaunch Michael Rubenstein said "We've brought a platform to market that doesn't just meet advertisers where they are now, but sets them up to capitalize on the future of advertising as digital and TV begin to converge"
As mentioned above the platform has a number of new features & additionally it gives buyers access to Xandr Audience Segments which have been built from AT&T's 170 million direct-to-consumer relationships in the US.
Beyond offering feature parity for video Xandr Invest also features a programmatic guaranteed offering that enables buyers to reserve access to premium supply with no manual tags to traffic or additional invoices to manage which brings it inline with competition such as Google's DV360.
I've consistently said for US buyers that this is shaping up to be an exciting alternative to DV360 & Amazon & now I'm most interested to see how things shape up outside of AT&T's home market.
So outside of a consistent offering across markets as per Google & Amazon, what is it missing? Well one article noted that it didn't give buyers access to Warner Media's linear TV inventory currently. This will change the VP of buyside product at Xandr recently said they had "plans to add it in the future" So the key question now is when? That remains unknown & whilst it's probably a little soon Xandr is hosting an event at Cannes with Warner Media, a knock out announcement on a Yacht moored just off the Côte d'Azur would be fitting given the significant developments in programmatic TV we've already seen this week…
---
Programmatic TV Is Going Mainstream
For the past 18 months the Programmatic TV market has been like the mobile market was half a decade ago, huge potential, that was not fully realized. This is changing though, this week we saw two big announcements the first was that Hudson MX publicly stated that its platform had facilitated over $2 billion in local TV advertising buys this year alone.
The platform which many buyers outside of the US will not be familiar with, is called BuyerAssist. Beyond the epic scale of investment Hudson MX said the platform now has over 700 buyers & is used by all 15 of the largest ad agencies in the U.S. Check out the the link in the Tweet below for a tonne of interesting detail on the business including a new integration with WideOrbit:
As you can see from the cheeky Tweet above, Hudson now counts Rubicon veteran Jay Stevens as their President & without doubt this is a company is a company to watch.
From a business in its ascendancy, to one at the very top, Google. The second big announcement this week in the programmatic TV space was that the Mountain View based giant are partnering with WideOrbit to bring linear TV buying to DV360. As is often the case JamesHercher from AdExchanger had the scoop:
I found it interesting that Google are working with 3rd party exchanges in this space & that their own SSP (Google Ad Manager) isn't currently part of the push. This I suspect is due to concerns publisher side about Google's dominance, but I wonder how long they will stay out of the action on the sell side, especially given that some major players like Disney have just signed multi-year deals with them.
---
The Digital Market In 2019 & Beyond
For those of you obsessed with where the market is heading, the past seven days have been heavenly, jam packed with trend reports. Earlier this week Mary Meeker gave her annual Internet Trends report at Recode Media's Code Conference & yesterday GroupM released their always excellent "This Year Next Year".
If you've not seen the GroupM report yet, I recommend you do so, it's full of insight, you can access it directly here The report shows growth in 2019 across Western Europe & North America, but it is worth noting these key markets are growing at a declining rate vs 2018: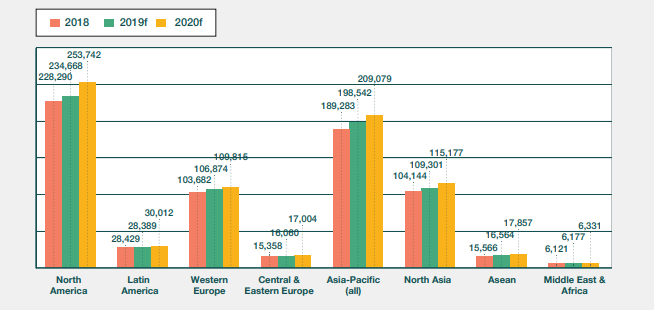 By medium, it should be unsurprising to all reading this newsletter that internet related advertising now accounts for the largest share of advertising activity tracked by GroupM, capturing 50% of the world's total spends in 2020, up from just 25% in 2014. Equally obvious but still of note is that digital continues to have the largest share of advertising spend in both the US at ~52% & in the UK at ~62%.
GroupM found that one driver of this growth was shifting spends amongst traditional advertisers, but another reason which is often less well explored is the emergence of internet-endemic app developers as advertisers, several of whom spend more than $1bn annually on advertising, who spend predominantly on digital advertising. One can only see this trend accelerating as time marches on.
Other channels most notably print but also television are still in decline, but Brian Wieser of GroupM noted "Connected TV and other "advanced" forms of the medium are helping to improve sentiment among advertisers toward television"
So that's the advertising stats covered, but if you're hungry for more & are looking for an overview of the general state of play, in what is now unquestionably the most important media channel, look no further than Mary Meeker's Annual internet trends report:
Lots in there & if you're looking for the slides that accompany the presentation you can find them here.
---
Thanks for making it this far. If you're one of the two thousand people, that gets forwarded this newsletter and want to get it sent to your inbox direct, you can sign up easily here, by hitting this button:
If you want to get in touch & say hi I'm @SimonJHarris on Twitter or you can find me on LinkedIn here Thanks again for reading.
---