Happy Friday 19.07.2019
The March Towards 1st Price Picks Up Pace
Happy Friday,
Over the past two weeks the pace of news has slowed a little compared with the frenetic activity seen directly pre & post Cannes. Whilst things are a little quiet I thought I'd deliver the newsletter fortnightly to keep the quality up.
The biggest news of the past 2 weeks is that WPP sold a 60% stake in research business Kantar to Bain Capital. We start the newsletter by looking at the specifics of the deal & what it will mean for Kantar.
From here we turn our attention to Google, their ad exchange Google Ad Manager (GAM) is well on its way towards being fully first price. We look at the impact this might have on buyers & the other moves Google are making to be more publisher friendly.
Next, a month after dropping the bombshell that data collection by AdTech companies was unfair, disproportionate & intrusive, UK regulators have provided guidance on when companies need to gain consent to collect data. it'll challenge the industry, we look at the specifics.
Finally we turn to the Washington Post, who have built a platform called Zeus that'll allow advertisers to target without the need for the aforementioned 3rd Party Cookies. The publisher owned by Amazon supremo Jeff Bezos is also licensing the tech to other publishers, interesting stuff, especially given the drive towards greater online privacy.
Enjoy!
Simon
---
WPP Sells Majority Stake In Kantar
WPP has been rumored to be looking to sell research specialist Kantar for some time as part of its efforts to be simpler, leaner & more focussed. Last Friday the world's largest advertising company announced it would sell a 60 per cent stake in the business to Bain Capital:
Bain Capital is a private investment firm based in Boston, Massachusetts. as of 2018 they had $105bn in management. They are reported to have paid a 8.2x multiplier on Kantar's 2018 revenues.
Kantar's CEO Eric Salama who will continue to lead the business said the new owner, will be able to "invest more in technology, people and acquisitions than if WPP kept 100% of the company"
Kantars desire for investment for further acquisitions is said to be a big driver in the sale from their side, they said without it they'd have ~ £30m a year for M&A. PE firms like Bain are flush with cash at the moment, so many believe the potential to ditch legacy systems & pivot into high growth areas like analytics & eCommerce in particular (as is the rumored) is now much higher.
Although some industry commentators have questioned why it was only a partial sale, the move appears to be a step in the right direction for WPP, who are looking to streamline the business over a three-year plan to deliver organic growth in line with their peers by the end of 2021.
---
Google Switching Auctions To First Price
Back in March Google announced it would be moving Google Ad Manager (AdX) to first price, given the exchanges dominance in many markets there was concerns amongst buyers that this would generate price inflation.
The market is about to find out whether these concerns are valid as July is the month Google are ramping up the number of first price auctions they are run, as you can see from the roll-out plan: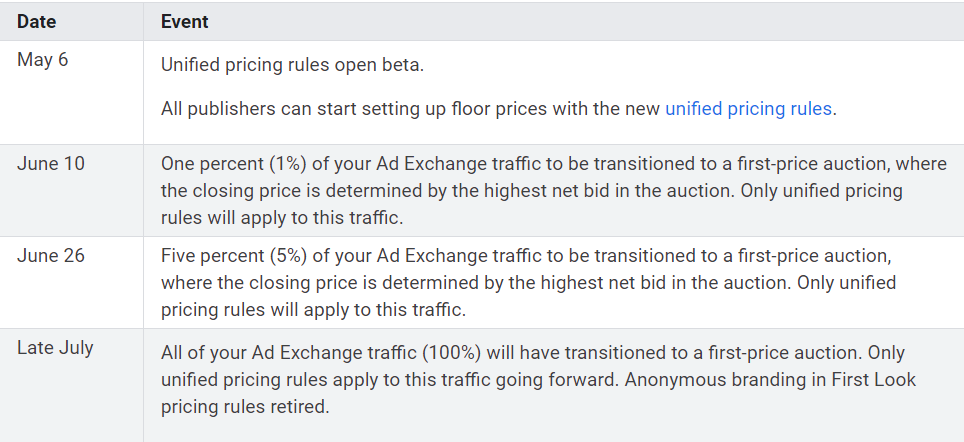 In an excellent interview in AdExchanger last week with Jason Bigler who heads up sellside products at Google, said helping publishers increase their yields isn't the only way Google are looking to deepen relationships with Publishers, sharing buyside data is another opportunity: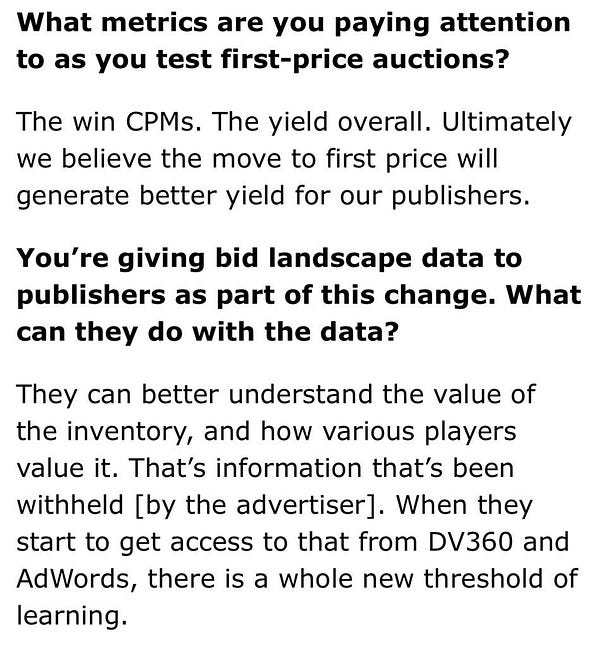 This raised eyebrows, but sharing insights with publishers is something that other exchanges do day in day out, that said Google is different from most other AdTech companies (bar AppNexus) in that they straddle the buy and sell side. Some say this means the potential for sharing data is greater & that Google called out data sharing from their platforms specifically has raised concerns amongst some DV360 buyers.
It's impossible to know if these concerns are valid, but Google are obviously confident these disclosures won't drive buyers away & it is likely these moves will help them cement the lead they have on the sell side in what is a competitive & crowded space:
---
A Big Week For Legislation
Last month the ICO put the whole industry on notice when it warned that AdTech needed to "re-evaluate their approach to privacy notices, the use of personal data & the lawful bases they apply within the RTB ecosystem".
Late last week they provided an update to further clarify when consent is and isn't required, this guidance will have a significant impact on the industry. In short they say "Legitimate Interest" as a means to process data for advertising or analytics is not acceptable:
This guidance highlights that advertising (& indeed analytics) are non non-essential processes & therefore consent is required as a legal basis for processing.
So what does this mean for publishers & programmatic buying? Firstly it will undoubtedly mean the further proliferation of consent banners as publishers who've relied on "Legitimate Interest" scramble to become compliant.
For advertisers it will potentially lead to declining audience pools, which will likely have a deflationary impact on addressability. Falling consent rates will also likely impact tracking compounding the issues that browser features like ITP have created over the past 24 months.
Whilst opt in rates tend to be relatively high the impact will still be noticeable & in this world consented first party data like email address will become even more valuable than it is today. Brands that build a direct to consumer relationship & take full ownership of their data will benefit significantly.
---
Zeus & The Death Third Party Cookie
So it has been another big fortnight for regulators & many are now contemplating a world where legislation or self regulation mean 3rd party tracking is no longer feasible/legal.
With one eye on the future the Jeff Bezos owned Washington Post has developed a first-party data ad targeting tool called Zeus:
The tool they've built is said to monitor contextual data such as what article a person is reading, where they are on the page & the source URL they came to the current page from amongst other factors. By mapping this against user data from the past four years they can decipher what a user intent might be and target an ad accordingly.
Since their acquisition by Bezos the post has begun to resell the tech that they create, most notably Arc their paywall product. The plan here is to do the same.
The Post do not expect Zeus to replace cookie based targeting yet, but it does help them prepare for this eventuality & in the meantime they will be testing, iterating and improving a product that can be used across direct & programmatic for display, video, native ads.
This will likely give them a first mover advantage on legacy AdTech who at some point will need to build tools like this as the market embraces the need for greater privacy in its precision marketing efforts.
---
Okay that's the newsletter done, thank you for making it this far!
If you want to get in touch
Twitter here: @SimonJHarris
Or LinkedIn here: linkedin.com/in/simonjulianharris/
If this was forwarded on to you and you'd like to subscribe you can do so here:
Thanks & have a lovely weekend
Simon