Happy Friday 21.06.2019
La Croisette Edition
Joyeux Vendredi!
It's that time of year when the great & good from Agency land & AdTech de-camp to the Côte d'Azur, in order to walk La Croisette & chat about the industry over a glass of rosé. Whilst this years event was again somewhat muted, it has still been a very interesting week, that has been packed full of news.
First up we look at one of the big announcements from Cannes: The Global Alliance For Responsible Media. The alliance is made up of a host of the worlds largest Advertisers, Agencies & AdTech businesses joining together to improve privacy & brand safety online.
We all know that rumors & Cannes go together like rosé & sunshine, the hot rumor at the event this year is that Teads owner Altice is looking to offload the native video specialist it bought only 2 years ago for a 6x multiple, a whopping $1.85 billion to be precise, we look at the details of this potential mega sale.
Next up we cross the pond to the US & look at the latest news in the Sizmek saga, it appears that their contextual targeting business Peer39 is going to be spun off into a separate business. We consider what the long term future of this business might be.
Finally we hop back on a red-eye to the UK to look at the initial findings from the Information Commissioners Office investigation into RTB & the AdTech sector. They found that the creation & sharing of personal data is intrusive, unfair & at times potentially illegal. We round the newsletter off by looking at what will happen next.
Enjoy!
---
The Global Alliance For Responsible Media Launches
Whilst the Extinction Rebellion movement grabbed the headlines at Cannes towards the back end of this week, the opening day announcement of The Global Alliance For Responsible Media made all the early headlines:
Alliance members are pledging to work collaboratively to better protect consumer privacy online & to create a media environment where hate speech, bullying and disinformation is combated. The partners in this global initiative are most of the key players in terms of Advertisers, Agencies &AdTech: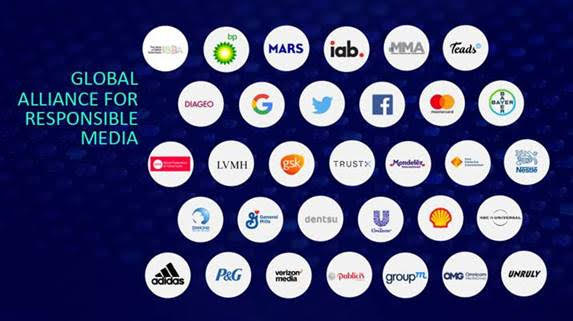 As I mentioned above brand safety is an area of focus & one that key alliance members Google & Facebook have continue to be embattled with despite improvements & employing an army of content moderators. On this area a super interesting mini documentary on the human cost of moderating these platforms was released this week, it illustrates just how challenging meeting the brand safety pledges will be for the alliance members like Facebook & the non trivial human costs involved in doing so:
That the Alliance is so wide ranging & is supported by a broad array of industry bodies including this ANA & IAB should help the fight in this complex area & whilst some have already raised concerns that it is unclear of how success will be measured & how goals will be achieved, my take is this is an important first step in a safer more sustainable ecosystem.
---
Cannes Rumor: Altice To Sell Of Teads
As the rose at Cannes flows, the rumors tend to get stronger. This year has been no different. It was reported yesterday that the French & Dutch Telco/Media business Altice is looking to offload Teads which it acquired 2 years ago:
Teads have not denied the rumors & it's believed that a range of businesses both in the US & Europe are interested, bids are expected next month for significant multiples on what the company was acquired for. Altice bought Teads for $300m just over 2 years ago & are said to expecting bids of $1.85bn (yes Billion!) for the business.
Clearly if they were able to achieve a 6x multiple over two years post acquisition, it'd be very good business for Altice, but some have questioned whether it would be a sound acquisition for the purchaser, in a world where there's increasing pressure for supply path efficiency from exchanges.
Certainly the supply-side is a very competitive space at the moment, but Teads has forged a very successful business in this area over the past 24 months. It's worth noting Teads doesn't just operate on the sell side, it has a nascent buyside product called Connect & a popular managed service proposition. Whether this will allow Altice to command the lofty valuation remains to be seen, but it'll certainly be interesting to watch this story play out over the next couple of months.
---
The Latest On The Sizmek Sell Off
From a potential AdTech sell off, to one the other side of the pond that is currently playing out publicly. The last couple of weeks have been very busy for Sizmek. As many of you know there have been both last minute bids & rumors of spin-offs. On the spin-off front it appears that Peer39 will be re-launching as a standalone business:
AdTech historians will recall that Sizmek bought Peer39 in 2012 for $15.5m. With 20/20 hindsight it looks like a relatively astute acquisition post GDPR & with CCPA looming. This is no doubt why Oracle paid $325m for Grapeshot in 2018 & it seems almost certain that the long term goal, would be the sale of the business to one of the other marketing clouds. It will be super interesting to watch this play out.
On the news of last minute bids it now looks like Amazon will proceed with the acquisition of Sizmek's DCO products after an attempt to snatch the assets by Weborama's owner Ycor was pulled:
It'll be interesting to see how Amazon use the Sizmek's DCO capabilities to improve their offsite remarketing, but even more interesting to see what becomes of the remaining assets including their DMP x+1 that was acquired for ~$230m in 2014.
---
The ICO's Findings On Privacy In RTB
This weeks newsletter isn't all sunshine, rumors & rosé, in fact for AdTech another potential privacy storm appears to be drawing in. Yesterday in the UK the Information Commissioners Office (ICO) a regulatory body responsible for data protection, made the initial findings from their investigation into real time bidding (RTB) & the AdTech that underpins it public:
The findings of the report that focussed on RTB will concern many, as the ICO said they believe "the creation & sharing of personal data profiles about people, to the scale we've seen, feels disproportionate, intrusive and unfair, particularly when people are often unaware it is happening"
They noted the market was still immature & went on to say that the complex nature of the ecosystem meant there are businesses using programmatic without fully understanding the privacy & ethical issues involved.
The ICO have said that they hope & expect data controllers in the AdTech industry to "re-evaluate their approach to privacy notices the use of personal data, and the lawful bases they apply within the RTB ecosystem" stern words, that many think foreshadow consequences for those who chose not to listen & act.
So what happens next? The ICO have said they need to further explore the data protection implications of RTB & are going to move into a phase of "targeted information-gathering activities". Here their focus will be on the data supply chain, profiling, privacy controls in place & DPIAs undertaken. This work will commence next month & the findings which will likely be published will be as fascinating as this initial report.
---
Thanks for making it this far. If you're one of the two thousand people, that gets forwarded this newsletter and want to get it sent to your inbox direct, you can sign up easily here, by hitting this button:
If you want to get in touch & say hi I'm @SimonJHarris on Twitter or you can find me on LinkedIn here Thanks again for reading.