Happy Friday! 22.03.2019
Dark Web Edition
Happy Friday!
The only place to start the newsletter is Sizmek who this week have hit the news twice: 1) Russian hackers have been selling access to their creative platform on the dark web 2) Their DSP briefly & inadvertently disclosed the audiences of major buyers to other 3rd parties using their platform. This will not help Vector Capital who only three weeks ago were rumored to be looking for a sale.
From an AdTech platform with challenges to one in that is in the ascendancy, we look at Amazon's latest platform tweaks, that have been carefully designed to provide a meaningfully better optimization experience for traders.
We then analyse the news that Oracle is killing AddThis in Europe & think about what this might mean for the business in the future? A pivot to contextual tools perhaps?Finally we look at the highlights from Brian O'Kelley's stellar "AdTech Exit" Interview, they are myriad & I thought it was a fitting way to round off what was an exceptionally interesting week in the industry he shaped.
Enjoy!
---
Russian Hackers Selling Access To Sizmek
Sizmek has had a nightmare week & been hit by two big news stories 1) Russian hackers have been selling access to their creative platform on the dark web 2) news broke their DSP briefly & inadvertently disclosed the audiences of major buyers to other 3rd parties using their platform. On the hacking front:
Sizmek's General Council said the account being resold on the dark web was a regular user account, not an all powerful admin account as had initially been claimed, he went on to acknowledge the "purloined account had the ability to add or modify the advertising creatives that get run on customer ad campaigns" hackers could use these features for profit or for spreading malware.
Sizmek as a response has forced a password reset on all internal employees & are scrubbing their user database for departed employees, partners & vendors whose accounts may have been hijacked. It has been suggested by some security experts that implementing 2 Factor Authentication (2FA) would be a route to stopping unauthorized access to systems which have access to commercially sensitive data, I think this would be a good move for ALL platforms.
So if that wasn't enough bad news for one week, it also came to light that Sizmek had inadvertently disclosed the audiences of major buyers to other 3rd parties on their platform for a brief period:
In an official statement Sizmek said "inadvertently disclosed segments descriptors were NOT utilized for media activation by anyone other than their rightful segment owner" Whilst that's no doubt a relief for users of their DSP, some have commented that If a buyer had access to the inadvertently disclosed segments, they might have extracted insights from these & inferred an advertiser's data strategy.
Whether that happened or not, this story, coupled with the system breaches elsewhere will not fill users of their platforms with confidence & I suspect this week will go down in infamy for Sizmek. It will certainly not be music to the ears of Vector Capital who only three weeks ago were rumored to be looking to offload Sizmek.
---
Amazon Launches New DSP Features
From a platform with challenges to a platform in the ascendancy, Amazon was in 2018 was called out by traders for being a little bare bones, so in 2019 the Seattle based giant is on an aggressive drive to add new features to change this.
As reported previously in this newsletter back in January, Amazon launched a number of innovative attribution features, including view based sales & incrementality metrics, now in March the traders get some love, with an improved UI & bulk editing for swifter optimization:
The changes to the UI whilst small will have a meaningful impact on a traders ability to optimize a campaign quickly, especially as along with new bulk editing features the platform also has implemented a new customizable reporting suite that brings its capabilities closer in line with market leaders DV360 & TTD: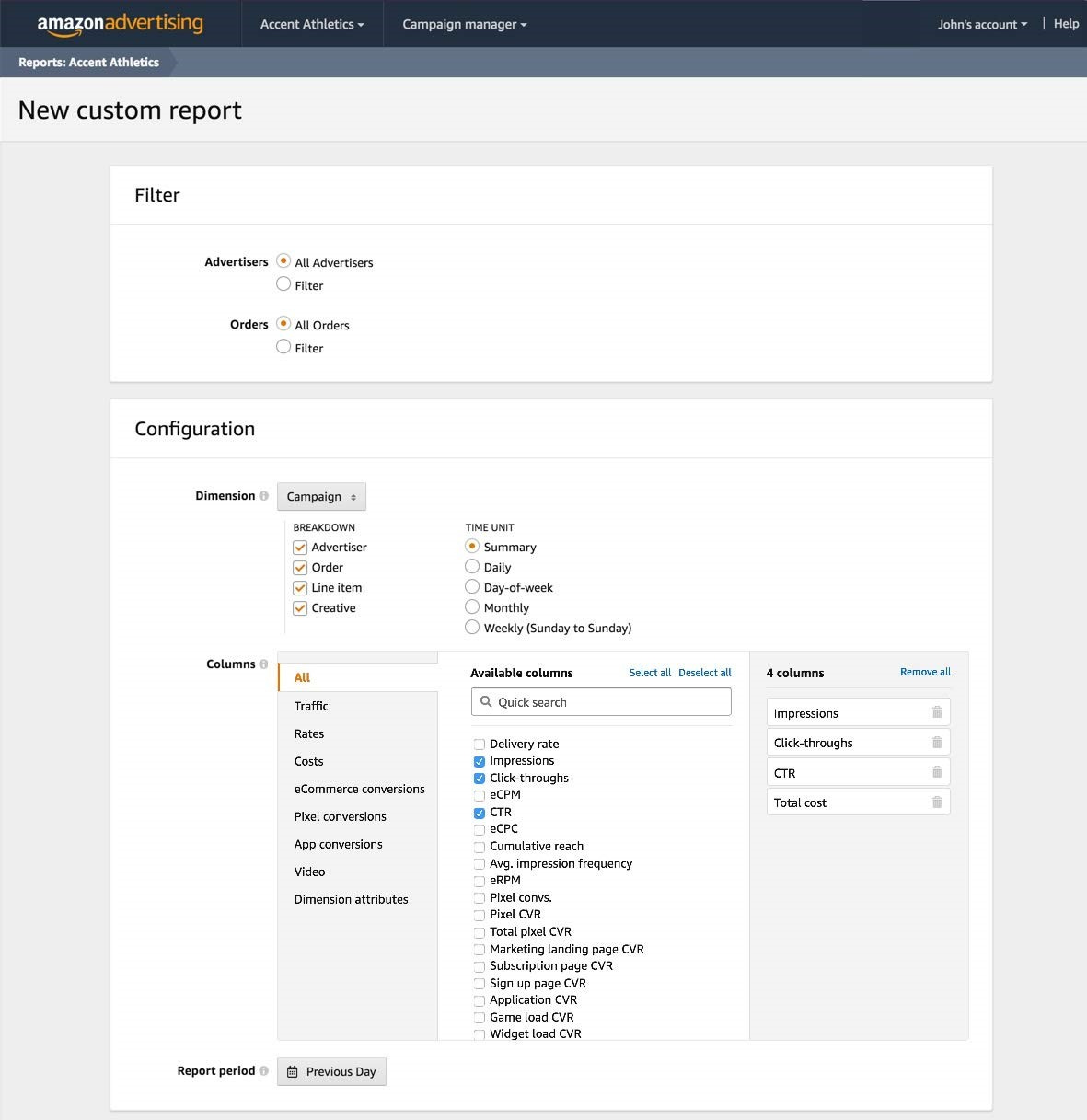 The custom reporting that compliments the already available canned reports will make getting insight into what's driving results within the platform easier than ever. Again this feature is definitely highly complementary to the bulk editing features referenced above, showing that Amazon are thinking deeply about how best to close the gap on incumbents in the market.
Are these changes as innovative as the attribution features launched in January? Arguably not, but they will deliver programmatic traders a meaningfully better optimization experience & coupled with the power and accuracy of Amazon's data this is sure to help the business add further to its growing user/fan base. I'm very excited to see what's next for their DSP.
---
Oracle Kills AddThis In Europe
From a business built on data, to a business struggling with data without consent. This week news broke that Oracle Data Cloud (ODC) had pulled the plug on AddThis 3rd party data segment in Europe, the business it paid ~$200m for 3 years ago:
Oracle didn't widely publicize this & it is worth noting that ODC will continue to offer AddThis services to publishers, but they'll only collect data from visitors outside of the EU.
Oracle is thought to have invested ~$3.1bn over the past half a decade in data businesses that sit within their ODC including BlueKai ($400m), Datalogix ($1.2bn) & GrapeShot ($325m). ODC was once held up as one of the hottest areas of their business by founder Larry Ellison, some have commented that these investments now look like a liability post GDPR in Europe & with CCPA looming in the US.
This is the latest in a number of setbacks for the ODC, Facebook shutting off 3rd party data post the CA scandal was another notable challenge last year. So what next for the business? In the context of programmatic I would imagine that ODC will aggressively push acquisitions they have made in the contextual space such as Grapeshot.
How much of an impact this will have on their data business, which is rumored to bring in $500m in sales per year is unknown, but I suspect it will be non trivial. That said clearly Oracle is a business large enough (with enough options) to weather the storm and come out the other side just fine, it'll be interesting to see how other smaller vendors fair.
---
Brian O'Kelley's "AdTech Exit" Interview
Brian O'Kelley is the godfather of programmatic, arguably no one has done more to shape the industry we earn a living from. He's a divisive figure, some people love his candor others complain he's too brutally direct.
However you feel about him his so called "AdTech Exit" interview with Zach Rogers is one of the best Podcasts on Programmatic & AdTech of all time.
BoK dropped some serious bombs during an expansive chat with Zach that lasted over an hour, I thought I'd share some of the highlights from the discussion. The first was @bokelley on whether programmatic had made advertising better:
Many will have been surprised by that answer, but will accept that the innovation programmatic has brought with it hasn't always been as favorable for publishers as it has for buyers. He went on discuss some of the challenges for the buyside:
BoK also questioned the impact of banner advertising discussing if publishers & others could have taken braver choices to ensure ads were more impactful in a world of ever increasing screen resolutions:
He had strong words for AdTech middlemen & believes that the days of businesses adding little to no value to advertisers in the ecosystem were numbered:
It was a fascinating discussion, highly topical & made sense given his involvement in tech designed to clean up the supply chain. Speaking of efficiency the discussion on Google's Exchange Bidding was interesting:
But my favorite quote of the podcast didn't relate to AdTech, but on what effective leadership looks like "We need corporate leaders to take hard positions that are not shareholder perfect but are stakeholder optimal" I couldn't agree more, respect.
BoK also found time to address some of the criticism I mentioned above, saying he's working on "being more gentle even when I'm right" What a legend, I hope we hear more from him in the future.
---
What a crazy news week, we didn't even have room to talk about:
1) Omnicom moving their programmatic teams from their center of excellence into their agencies
2) News that Comcast is bringing Sky's innovative AdSmart technology to the US & NBC Universal
3) S4 Capital is hunting for a 1st party data business as it looks to double in size before 2021
---
Okay that's the newsletter done for another week & thank you for making it this far!
If you want to get in touch
Twitter here: @SimonJHarris
Or LinkedIn here: linkedin.com/in/simonjulianharris/
If you know someone who might like to receive next weeks newsletter send them here:
https://simonjharris.substack.com/p/happy-friday
Thanks & have a lovely weekend
Simon