Happy Friday! 30.11.18
Rocket Fuel Misused Data, Disney Partner With Google.
Happy Friday!,
Lots of big news this week. We start with the disclosure that Rocket Fuel commingled client data. We then turn to the supply side with news that Disney is going all in on the Google Stack. Next up we look at the Ad Fraud scheme Google, WhiteOps & the US Government have bought down, which notably included arresting the perpetrators & finally we take a look at how Amazon's ad sales are growing faster than Tencent & Alibaba's are… Crazy stuff.
Finally a bit of personal news, I'll be writing a series of articles for AdExchanger, the latest is titled SPO: How To Reduce The Cost Of Fraud To Zero it's pretty topical given the news this week, check it out when you have a moment here
---
Rocket Fuel Misused Client Data
The big story of the week was that RocketFuel had been using data from one client to power other advertisers campaigns:
Rocket Fuel made heavy investments into AI & had a strong platform, but their algorithms are said to have benefited significantly from the commingling of client data which was not authorized. This wasn't aggregated learnings informing an algorithm, it was taking data from one clients site and using it in another clients campaigns…
AdExchanger reported that former CEO George John (allegedly) told an employee to deceive a client about how its data was being used. When the employee acted shocked, John supposedly said, "Oh, come on, it's not lying. When you talk to your children about sex, you just give them the truth they can understand, and that's how you have to talk to clients."
I would imagine Rocket Fuel's current owners Sizmek will be receiving a significant amount of inbound this week from clients asking if this is still current practice either through their DSP or the Ad Server the company also owns.
It almost goes without saying that this type of behavior is unacceptable & sadly this story could impact businesses beyond Rocket Fuel, who are guilty only of offering similar services. Outlier cases like this may also lead to clients to take ownership of their contracts and even taking buying in house.
---
Disney Moves To The Google Stack
The Walt Disney Co. is moving all of its digital brands and properties worldwide — including Disney, ABC, Pixar, ESPN, Marvel & Star Wars from Freewheel which is owned by Comcast to Google's advertising platform:
Disney is moving it's entire global digital video and display business onto Google Ad Manager & the Disney Advertising Sales team will start to offer advertisers "optimized cross-platform delivery & measurement".
This is a really big deal: Disney properties reach 230 million users who spend around 230K hours with Disney content each month. Some commentators think it is unwise that Disney are making the move to Google, given that the Mountain View giant also creates content & competes with Disney for consumer time. But I'd imagine Disney will have factored that into their cost benefit analysis.
Interestingly Hulu which Disney own 30% of is not part of this deal, they will continue to use their own stack for now although it will be interesting to see if this changes over time, especially if Disney gains majority control of Hulu via the deal they have tabled to purchase 20th Century Fox which includes Fox's 30% stake in Hulu. When this is completed this may give Google's SSP meaningful supply in the OTT space.
---
Google, White Ops & The US Government Bust Ad Fraud Ring
Google, WhiteOps & the US Government have worked together over the last year to bring down a massive Ad Fraud scheme.
Their investigation culminated in coordinated raids across Europe & take downs of the fake domains where the fraudsters monetized their botnet. Three of the eight alleged perpetrators were arrested overseas on charges that included wire fraud & money laundering. The defendants, who are primarily from Russia, are accused of collecting more than $36 million from companies who thought they were paying to place ads on websites.
The scheme named 3ev (pronounced Eve) primarily targeted video ads as they have higher yields than display was linked to the group that ran the Methbot scheme that was uncovered by WhiteOps in late 2016.
There's more detail in this than I could ever do justice to in this email, so I'd recommend following the link at the bottom of the Tweet below, this will take you through to Google's full study on 3ev, it's an exceptionally interesting read:
---
Amazon Taking Over The World
Amazon not happy dominating retail, is looking to conquer online advertising:
As some of you will know the business has already grabbed the No. 3 spot in the U.S. ad market in turn pushing tech giant Microsoft into 4th place. A big chunk of Amazon's ad business comes from its retail site, but display & video ads are growing in importance with research from @CowenGroupInc highlighting this: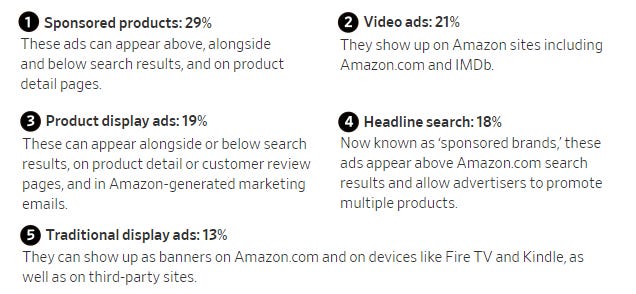 Whilst it has a way to go to catch up with Google & Facebook it is growing very quickly & within the next five years ad sales are expected to jump $28.4 billion. The growth in ad sales is even outstripping Tencent & Alibaba in China which is going some: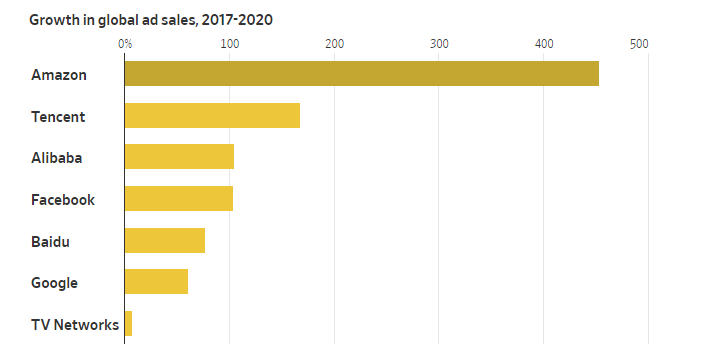 I expect that to maintain this forward momentum Amazon will launch a raft of new products in the next six months, whether this allows them to challenge Google's dominance in the market currently remains to be seen, but longer term you can see the demand side consolidating in the same way the supply side is currently & a market where Amazon, Trade Desk & Google are the de facto buying platforms. The only challenge to their dominance might actually come from Facebook who are having an annus horribilis in 2018 & might over the next couple of years look to boost monetization off platform as audience numbers on platform plateau/fall in some developed markets.
---
As I mentioned above I am writing a series of articles for AdExchanger, the second in this series is currently on the front page if you could check it out and let me know what you think that'd be great, you can find it here:
It's nothing if not topical given the article above, let me know what you think though on Twitter or LinkedIn:
Twitter: @SimonJHarris
LinkedIn: linkedin.com/in/simonjulianharris/
Finally if you think of someone who might like to receive next weeks newsletter ask them to sign up here: https://simonjharris.substack.com/p/happy-friday
Thanks & have a lovely weekend
Simon
---