Happy Friday 01.03.2019
Welcome Back !!!
Happy Friday.
After a week off in the sun the newsletter is back. There's lots to discuss, we start with YouTube, back in the headlines for all of the wrong reasons, things are so challenging they announced last night they're pulling comments on video's featuring kids. Next up a more positive story, we turn our attention to the Rubicon Project who filed their latest set of earnings & continue a Lazarus like return under CEO Michael Barrett.
From the sellside to the buyside & another AdTech success story, this time The Trade Desk who again posted epic results, we look at these & discuss the debate that sprung up around the sustainability of profit margins. We then round off the newsletter with a story from Variety that Disney wants to buy even more of Hulu & we consider what this might mean for their AdTech partners.
---
More Brand Safety Issues For YouTube
Last week YouTube faced a wave of criticism over the significant number of predatory comments in videos on the site. The serious issues were raised by this 20 minute exposé, which has now been viewed over 3.1m times:
Subsequently tech site The Verge was able to recreate the issues outlined in the initial exposé, quickly finding videos with predatory comments. YouTube pulled many of the videos highlighted quickly & over the past week has disabled comments from tens of millions of videos that they considered could be subject to predatory behavior.
Last night they escalated their measures significantly, announcing they will no longer allow the majority of channels featuring kids to have comments:
Moving forward only a select few channels that feature kids will be allowed to include a comment sections, but the caveat is channel owners will be required to "actively moderate their comments" & YouTube says this goes "beyond just using our moderation tools" & that they "will work with channel owners directly" on this & that their goal is "to grow this number of channels allowed to feature comments over time as our ability to catch "violative" comments improves".
Definitely a shame that this is a step that Google has had to take, but it's clearly a sensible one given the circumstances.
---
Rubicon Posts Strong Q4 Results
Rubicon Project rounded off a strong 2018 by announcing that Q4 spend through the platform grew from $246m in Q4 2017 to $301m in Q4 2018 & revenue from this was $41.4 million up 32% from Q4 2017: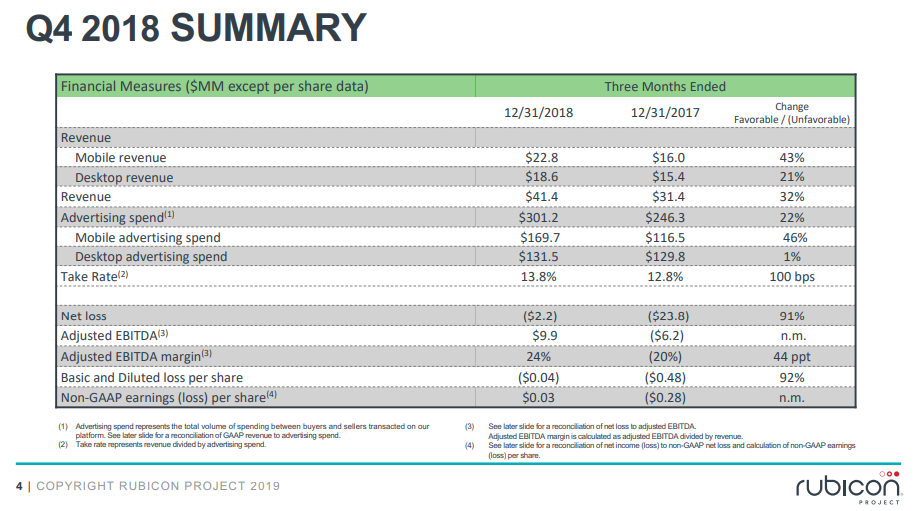 I think it's pretty fair to say the business has seen a Lazarus like return under CEO Michael Barrett, for context this time last year its share price was $1.61 currently it's trading at $6.03.
Take rates did increase ~1% from Q4 2017 but the business says it expects to keep this stable in 2019. CPMs are trending downwards, but despite this Rubicon anticipate strong revenue growth of 25% into Q1 2019 & it's likely the continued growth of video which doubled year over year will be a driver, as will as audio given their partnerships with key players in this space.
It has been reported that the Rubicon will "sunset" some metrics this quarter & moving forward it's only going to report take rates on an annual basis, I love this business but to me this is a slight step backwards. Having said that I understand why they'd do this from a business POV & reporting back annually is still better than most who not being publicly listed so are not held to the same levels of scrutiny, yet.
I say yet, as clearly buyers want more transparency than they have currently & it's also fairly clear that this creates an opportunity for technology businesses who can assist in this area. Any solution that can provide transparency on fees across all the key SSPs will find a huge market.
This is still a nascent market & there's still lots to do, but Amino (run by former IAS Co-Founder Will Luttrell) looks to be an early leader, I find this somewhat fitting given this tech here has the potential to be as positive for transparency, as third party verification like IAS was for brand safety half a decade ago. I really hope 2019 is the year verification in this space grows in scale & goes mainstream.
---
Another Round Of Strong Results For TTD
The Trade Desk (TTD) had an epic 2018 & this week rounded off the year with another set of stellar results. It's performance on the stock exchange has been remarkable, this time last year it was trading at ~ $60 as I write this the Ventura based AdTech darling was trading at ~$197.
Whilst in 2018 Google's DV360 was very much still the dominant buying platform & Amazon was in the ascendancy, TTD remained popular with existing customers & won significant share from other DSPs, due to the rapid iteration of it's offering & proactively pushing into new channels.
Taking market share from the competition & channels like connected TV growing 9x YoY drives spend into the platform, but equally The Trade Desk has then been incredibly effective at generating profit from this, as was reported by @AdExchanger:
The article reports the Trade Desk's take rate is ~18.5% in 2018 & states that this is forecast to increase by 1.5% to 20% in 2019. So how are they doing this? Firstly TTD has been effective at monetizing new features the market has required such as bid shading & secondly they have seen continued success with their data marketplace which it's reported, has long been a profit driver for them.
In a market where take rates have been falling on the sell side, TTDs profit margin did sparked interest & a couple of pointed comments from some, but most have agreed that buyers are largely a rational bunch, willing to pay for features that drive value for their clients, so if a bid shading tool saves them $1 CPM they'll be willing to pay part of this saving on to TTD for the feature.
What's more interesting is the debate that has sprung up over whether monetizing these platform features is sustainable approach. What's the debate here? Well the data marketplace has been super successful in the past, but as concerns around 3rd party data collection grow & with further legislation is on the horizon, some commentators feel buyers will be less willing to use 3rd party data moving forward & a dent in buyer confidence would obviously be a challenge. Thinking of newer features like bid shading, whilst this no doubt drives a tonne of value, some have commented if it's offered elsewhere for free, how long will buyers continue to pay for it?
Both logical arguments in fairness, however one thing that seems equally logical to me is the counter argument which is given the folks over at TTD are very smart & programmatic is still growing rapidly it's entirely likely they'll continue to create new features that drive value for advertisers & some buyers will continue to pay to use these. Ultimately TTD do have a pretty solid track record for innovation, hence the position they find themselves in currently. Congrats to all at TTD on their continued success.
---
Disney Wants To Own More Of Hulu
Disney already owns 30% of Hulu & once they have regulatory approval to buy 20th Century Fox they will gain control of another 30% of the company. An exclusive in Variety on Wednesday highlighted that Disney is in talks with AT&T to acquire their stake also:
This could potentially take their holding to 70%, it's unlikely this could grow further as Comcast's NBCU, which also owns a stake says it does not want to sell. Regardless of what percentage they end up owning there's already been some speculation on what Disney owning 70% of Hulu would mean for AdTech…
Why? Well In November Disney announced they were moving their entire digital video & display business globally onto Google's Ad Manager & just this January Hulu named Telaria as its partner of record. On the rumors there's obviously nothing to say Disney would extend Google's use into Hulu & also especially as it's been reported that the Telaria/Hulu deal is set to run for two years, so as exciting as the rumor mill can be, perhaps not much will happen in the short or medium term here.
Speaking of Telaria & OTT, I spot a good opportunity to finish the newsletter on a positive note, it was great to see them post really strong results off the back of success in this area (Connected TV), & yesterday this had spiked their share price from ~$3.17 at the start of the month to $5.58 today, congrats to all there on this!
---
Okay that's the newsletter done for another week & thank you for making it this far!
If you want to get in touch
Twitter here: @SimonJHarris
Or LinkedIn here: linkedin.com/in/simonjulianharris/
If you know someone who might like to receive next weeks newsletter send them here:
https://simonjharris.substack.com/p/happy-friday
Thanks & have a lovely weekend
Simon
---