Happy Friday 05.07.2019
Just Like That It Is Q3
Happy Friday,
This week we start in agency land with one big piece of news & one whopper of a rumor. Firstly Publicis have closed their acquisition of Epsilon, we look at why they've paid $4bn for the data driven marketing specialist & how the two businesses will be integrated.
Next up the big rumor of the week: From 2020 WPP will allegedly not participate in pitches led by Accenture, Whilst there's no official word from the London based giant on this, industry insiders believe something is afoot, we look at this.
From agency land we pivot to AdTech & The Trade Desk who some criticized this week for appearing to pressure their exchange partners stop syncing with some of their competitors. We look at what's going on here.
Finally we turn our attention to a super important initiative from the @IABTechLab called the Data transparency & compliance program. It is aims to improve the transparency of 3rd party data vendors. If everyone gets behind this it will radically improve insight into how segments are collected & built, we round off the newsletter by looking at the detail.
Enjoy!
Simon
---
Publicis Make Giant Data Acquisition
Over the past few years holding companies have bought data businesses with a view to future proofing their business, exactly 12 months ago IPG closed their acquisition of Axciom, a couple of years after Dentsu bought Merkle. Not to be left out Publicis have been eyeing Epsilon since April & this week completed the deal:
The purchase price of $3.95bn is a discount on the $4.4bn Publicis originally were willing to pay for the business & Publicis CEO Arthur Sadoun the discounted price reflected the fact that Publicis was the "best partner" for Epsilon, even if other options could have been more lucrative for Epsilon.
One of the drivers of this acquisition according to Publicis CEO was to address the "one imperative for clients" to "take back control of their customer", Sadoun went on to say that "a personalized experience at scale is the only way to do it". Some industry commentators have already questioned whether using a holding companies assets is truly taking control, but regardless it does give Publicis improved data capabilities.
The plan is for Epsilon's data & tech platform to sit at the core of the group so all advertisers be they clients from Publicis Communications, Publicis Media, Publicis Sapient and Publicis Health can benefit.
Publicis are looking integrate the businesses quickly & in fact they've stated they'll roll out Epsilon to U.S. clients immediately, with international clients gaining access to its services in the coming months. Given the geographic spread of Epsilon this makes sense. 
Publicis beat Goldman Sachs to acquire the business & said that other agencies nor management consultants were in contention for Epsilon. On the latter they said neither Accenture or Deloitte "understand marketing enough to go for this kind of big acquisition". Strong words & not the only shots across the bows of the big four this week from agency land…
---
WPP To Opt Out Of Accenture Run Pitches?
The largest holding company in the world WPP will reportedly stop participating in any media pitches supervised by Accenture starting in 2020:
WPP are alleged to be concerned about the parts of the business that work on pitches passing intel gained from this process onto Accenture Interactive who offer competitive services to them, including programmatic buying & that pricing data could then be used against them.
It's well documented that the big six holding companies no longer compete amongst each other for the largest media accounts as consulting firms have aggressively acquiring & growing their digital advertising capabilities. This dynamic has increasingly seen rumbles of discontent from media agencies over conflicts of interest.
To date these rumbles have not impacted Accenture Interactive's revenue which grew 30% in 2018 & are forecasted to grow a further 20% this year, but if true this can be seen as a significant escalation. The general consensus from industry commentators, appears to be all alleged stance being taken is reasonable:
If the rumor is accurate the scale of its impact would likely depend on whether Omnicom, Publicis, IPG et al get involved & to date there's been no indication they would follow suit. If this isn't a rumor it'll be super interesting to see the impact this has on the market.
---
The Infamous Cannes Presentation
The Trade Desk (TTD) has long been a darling of the AdTech world, it's known to be popular with traders & investors alike, on the latter its share price has doubled year to date, quite remarkable given some of the headwinds in AdTech currently.
But that doesn't mean it is immune to criticism & it has picked up more than usual recently, its bid shading product has been criticized by some industry commentators & earlier this week it came to light that TTD had suggested participants in their Gold Standard initiative would need to stop syncing IDs with non-enterprise level DSPs:
The presentation given in Cannes outlined behavior & processes that TTD expect from partners who participate in their well-regarded Gold Standard initiative & whilst some of the asks make a lot of sense (more on this below) the one on syncing raised the specter that TTD was/is trying to stifle competition.
As reported in the excellent AdWeek scoop, TTD have said that this is a working document & indeed some have suggested post the articles publication, that the option of using an industry Standard ID instead was floated. Currently it is unclear if that is the case but if so then it might allay concerns that the TTD are trying to force their Unified ID on smaller players in the market.
This mandate appears to have been off the mark but many of the recommendations in the presentation seem incredibly sound. For example TTD have said that they "will move resellers to opt-in in 2019 to force the routing of spend" This would be a welcome nudge for publishers to remove resellers who add questionable value in the supply chain, mandates that sellers adopt sellers.json would further build on this.
Another suggestion in the working document was that sellers should support App-Ads.txt an IAB Tech Lab initiative similar to the successful ads.txt but focussed on apps. This would significantly improve trust in the Mobile & OTT ecosystem & again it'd be tough to call that out as a bad idea, it seems logical for TTD to push this standard given the direction of travel in the market around OTT.
Overall the business seems to be getting behind IAB Tech Lab initiatives which should be welcomed, but clearly they will need to consider the feedback in areas that have been less well received, it'll certainly be interesting to see how this plays out towards the end of 2019.
---
Improving Third Party Data Transparency
The IAB Tech Lab recently announced a Data Transparency standard that establishes minimum disclosure requirements for audience data providers & a compliance program that will ensure the highest standards of audience data transparency:
The idea of the data transparency framework is that just like we have nutrition labels for food, we should have the same for data segments, it'll look something like this: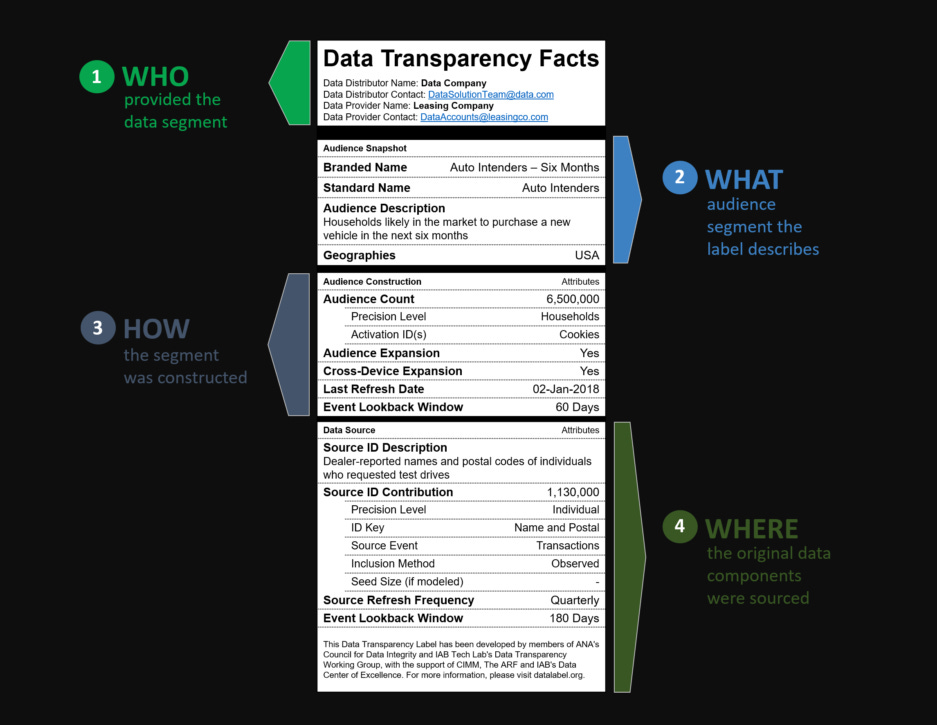 I'm sure many buyers will welcome this level of transparency & insight into what they are buying, including key features such as whether the segment contains lookalikes & how often it is refreshed.
It's worth noting that the standards & compliance program are not intended to provide a qualitative assessment of the segment e.g, if it is highly accurate or indeed whether it is performant, but to surface baseline information that buyers can use to make informed decisions about segments they deploy.
That said, this is a really important step for the third party data market that has been hit by concerns about the lack of transparency of how segments are built. Whether this is enough to tempt buyers back to using third party data as widely as they did historically now that GDPR is in full effect & CCPA is on the horizon remains to be seen, regardless my hope is regardless all the major players participate.
---
Okay that's the newsletter done for this week, thank you for making it this far!
If you want to get in touch
Twitter here: @SimonJHarris
Or LinkedIn here: linkedin.com/in/simonjulianharris/
If this was forwarded on to you and you'd like to subscribe you can do so here:
Thanks & have a lovely weekend
Simon